We have an expert knowledge of the wide range of content management and eCommerce systems available on the market today. Whether your needs are simple or complex, we can help you find the right fit and customize a solution to meet your budget.
Contact us for a free consultation today.
Content Management
We specialize in using PHP/MySQL dynamic content management solutions to build robust, flexible, elegant, and secure solutions that are as complex as neccessary and as simple as possible.
These are some of our favorite tools.
WordPress
The world's most popular blogging platform, WordPress has also matured into a Content Management System which is excellent for many needs. It's also free and completely open source!
ExpressionEngine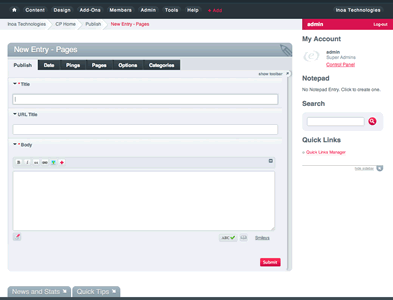 Now billed as a web-application engine, we have been working with ExpressionEngine since before its official launch in 2004. ExpressionEngine is our preferred platform for content-rich sites that require a highly customized implementation. ExpressionEngine is now an open-source platform.
eCommerce Solutions
We also provide eCommerce solutions, including merchant accounts, SSL certificates and shopping cart software, hosted on a PCI-ready server.
Custom Applications
If you need a fully custom solution, we can also work with you to develop a content management system (CMS) according to your specifications. We especially like building on the CraftCMS and Django frameworks.